Permanent lighting features LED bulbs which are of higher quality, especially compared to traditional lighting solutions. LED outdoor Christmas lights can also be repurposed and used all year round.
They can withstand extreme conditions and allow you to get more creative when it comes to your display. These lights can last through cold temperatures and heavy blizzards, and you can customize them any way you want. They give you numerous design possibilities and allow you to brighten up the exterior of your home, and your entire neighborhood.
Benefits of LED Outdoor Christmas Lights
Safe Permanent Lights
LED lights use much less energy than regular lights and hardly give off any heat. This property makes them much safer to use, as they are less likely to start a fire. Since LEDs only get dimmer over time, you won't need to keep replacing them all the time. Also, they require little to no maintenance.
Durable Holiday Lights
These lights are extremely durable as they are made to withstand the weight of the snow on your roof. They are the first choice for every professional lighting company because they offer more security. Additionally, it's extremely hard to break them, even if you use excessive force. Also, if one goes out, the rest will stay unaffected.
Save Money & Energy With Permanent LED Lights
Incandescent bulbs release 90% of their energy as heat, causing them to reach high temperatures. On the other hand, LED lights use up to 75% less and can last about 25 times as long, according to the U.S. Department of Energy.
You can simply plug them in, and keep enjoying them for years to come. Another benefit is that some stores offer special discounts in exchange for turning in your old lights for energy-efficient ones.
Although LED outdoor lights are more expensive than traditional bulbs, they will allow you to save money over time. In addition to keeping your energy bills lower, you won't have to keep replacing them all the time.
The Best Time to Install Holiday Lights
The greatest and most intricate displays are typically the result of LED outdoor Christmas lights. The best part is that you can set them up whenever you want, and use them before and after the holiday season. Moreover, a lot of people keep these displays up and use them to brighten up Valentine's day, the 4th of July, or a regular Thursday.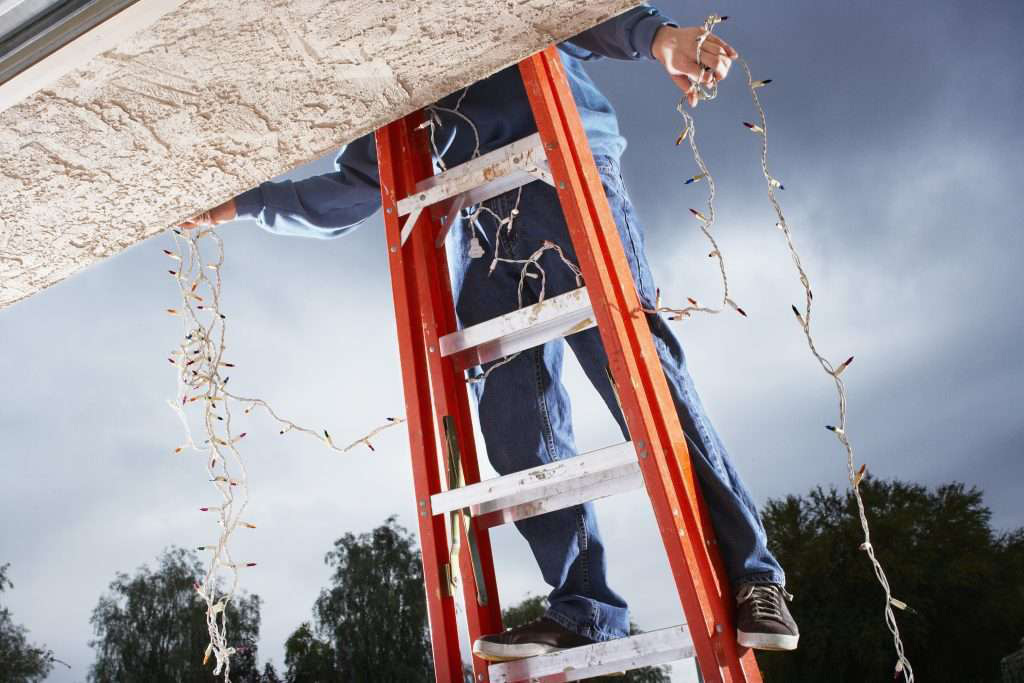 However, unless you're a professional, you might have some trouble installing them, especially during the winter, or other periods of precipitation, when the roof is slippery. The process itself can be complex, as you need to plan, measure and cut the light strips to fit your needs. So, if you prefer to stay inside with a hot cup of cocoa — hire a professional.
Outdoor Christmas Decorations
Having the best, most elaborate Christmas decorations has become somewhat of a competitive sport in the US. Installing LED outdoor Christmas lights is arguably one of the best ways to outshine your neighbors. If you want your home to steal the show and be the talk of the town, you have to invest in LED bulbs. Keep in mind that, although these lighting systems cost more upfront, they will end up saving you money on your energy bill and maintenance costs.
We're not saying that you can't set up a wonderful display all by yourself, but why wouldn't you want to stay inside and keep yourself warm? Our service takes care of all the planning, worrying, and roof-climbing for you, so you can focus on enjoying the holidays with your family. You can call us and schedule a free estimate, and have your amazing new lighting display up in no time!
Benefits of Outdoor Permanent Holiday Lights
Set Yourself Apart With Cool Holiday Lights
Call to Schedule a Free Outdoor LED Lighting Estimate
Learn More About Residential Permanent Lights